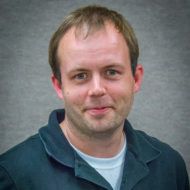 Peter Andeer
Peter Andeer is a Project Scientist at Lawrence Berkeley National Laboratory. He has worked in the Northen Laboratory since 2014 where he has studied soil metabolomics and microbial communities. He is a co-inventor of EcoFABs and for the past 2 years he has been involved in the development of EcoFAB and EcoBOT designs, experiments, projects and programs. Prior to joining the Northen Laboratory Peter was at Woods Hole Oceanographic Institution where he worked in Colleen Hansel's laboratory studying ROS production by bacteria and at the University of Washington where he obtained his PhD in Civil and Environmental Engineering under the advisement of Stuart Strand and David Stahl studying the microbial degradation of munitions.
——————–
LT Cornmesser
——————–
Amber Golini
Amber Golini assists with the construction of fabricated ecosystem (EcoFAB) devices and the development and implementation of the automated robotic EcoBOT instrument, focusing on components for image analysis and automation of procedures.
——————–
La Zhen Han
La Zhen Han assists with EcoFAB construction and development of the EcoBOT.
——————–
Kirsten Hofmockel
——————–
Trent Northen
Trent Northen is currently Deputy Division Director and a Senior Scientist within the Environmental Genomics and Systems Biology Division (EGSB) at Lawrence Berkeley National Laboratory (Berkeley Lab). The Northen group's research is focused on using exometabolomics to link genomes with environments to understand how webs of microbes cycle carbon and sustain biomes. Central to these efforts are the development of advanced mass spectrometry approaches and model laboratory ecosystems (EcoFABs) that are closely coupled to native ecosystems. Dr. Northen obtained his BS in Chemical Engineering at the University of California Santa Barbara. He was then a NSF fellowship at the Biodesign Institute at Arizona State University, where he received his PhD in Chemistry and Biochemistry. He then did a Post-Doctoral Fellow at the Scripps Research Institute in mass spectrometry and metabolomics. He completed the Berkeley Lab/UC Berkeley Haas Business School Emerging Leaders Training Program and represented Berkeley Lab as part of the DOE Oppenheimer Science and Energy Leadership Program. Dr. Northen helped form the Environmental Genomics and Systems Biology Division where he served as Interim Division Director. He has received numerous awards including a DOE Early Career Award, a R&D100 award, and was awarded a Presidential Award for Science and Engineering (PECASE) by President Obama. His research has resulted in over 25 patent applications and >120 peer reviewed publications including numerous papers in influential, peer-reviewed journals. Dr. Northen currently serves on a number of Scientific Advisory Boards and has diverse leadership responsibilities including Director of Biotechnology for the DOE Ecosystems and Networks Integrated with Genes and Molecular Assemblies (ENIGMA) Scientific Focus Area Program, Biosciences Area Environmental Strategy Mentor, Director of High Throughput Biochemistry at JBEI, and head of the Metabolomics Platform Lead at JGI.
——————–
Vlastimil Novak
Vlastimil Novak is currently leading a multi-lab trial to determine reproducibility of the plant rhizobiome using EcoFAB devices.
——————–
Thomas Vess
——————–
John Vogel
——————–
Karsten Zengler
Karsten Zengler is a Professor at UC San Diego in the Departments of Bioengineering and Pediatrics. He has more than 20 years of experience in the fields of microbiology and systems biology and has worked for seven years in the biotechnology industry where he led a team of scientists to pioneer high-throughput cultivation for the isolation and recovery of previously unculturable microorganisms. His work has focused on understanding of interactions of microorganisms with their environment and host organisms. He spearheaded the field of community systems biology where he combined his knowledge in microbial physiology and molecular biology with computational biology to discover new physiological capabilities, regulatory effects, and novel multi-dimensional interspecies interactions. His lab has been on the forefront of developing new protocols for ultra-low input omics approaches, genome organization, and translatomics. This interdisciplinary approach allows for a deeper understanding of microbial interactions and the unraveling of mechanisms in microbiome research. Dr. Zengler is author and co-author of more than 100 research articles and reviews. His lab has been on the forefront of developing and deploying genome-scale metabolic models for individual bacteria and eukaryotes, as well as co-cultures and communities and he has significant experience in evaluating the symbiotic associations and interactions in microbial systems. Dr. Zengler is the co-founder of several companies and is on the advisory board of different companies and institutions.
——————–
Kateryna Zhalnina